Long-term skilled nursing is a unique community for residents who need a higher level of care for an extended amount of time. Our long-term skilled nursing program can accommodate a wide range of conditions.
What is skilled nursing?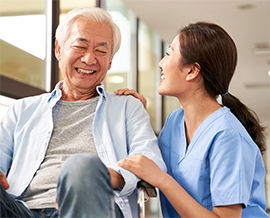 The term "skilled nursing" refers to care environments that provide this high level of attention, experience and aptitude. Examples of patient requirements in this situation may include:
Catheter, feeding tube or intravenous care
Complex bandaging or wound dressing
Monitoring of vital signs
What types of rooms are available?
There are Private and semi-private options for your loved one. Each room has a private bathroom. Telephone with individual telephone number for each resident. Cable television and local sport channels.
How do hospital transfers work?
Transitioning to a different level of care can be stressful, let alone moving from one care center to another. At Paul House, an MD is assigned to every resident. This helps facilitate transfers to and from other health care providers. We are also centrally located near many hospitals, such as Community First, Swedish, Advocate IMMC and Kindred. You can choose from doctors associated with these facilities and others in the Chicago area in order to make any move as simple and efficient as possible.
In the event your loved one's doctor indicates the necessity for a long-term skilled nursing program, we are here to help you understand this recommendation and make the appropriate transitions. Please call us at any time — our number is 773-478-4222.
Let our experienced Paul House team help your family today.
Contact us today to learn more!