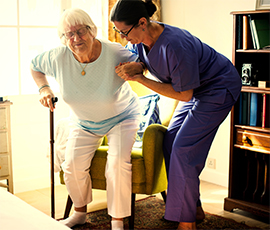 When the decision is made to move, we understand  how difficult and overwhelming it can be.  We are pleased to offer a community designed especially for seniors who enjoy living a full and balanced life. Residents are offered independence, privacy, and security, without the concerns of maintaining their own home.
An Individual Approach
We are dedicated to providing the highest quality of life to the people we serve through excellence in personalized service.  We recognize everyone is unique and we strive to be supportive and informative throughout the process.
An Expert Introduction
The first and perhaps the most important step in your move will involve getting to know each other. This process will begin in earnest when we meet you or the prospective resident the first time.
A member of our clinical team will schedule time to either visit your home or any other location to answer any questions you may have and determine the most appropriate level of care for you or your loved one.
Our Community Liaison is the central figure at this stage. This is a staff member responsible for visiting your home or any other location to gauge the level of need for your specific case. This assessment, combined with any documentation, goals or concerns you may have, will determine what we recommend in terms of a living situation and ongoing care here at Paul House.
Let our experienced Paul House team help your family today.
Contact us today to learn more!