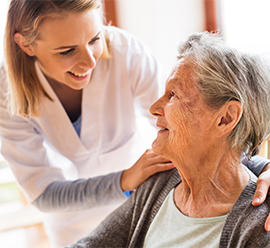 At Paul House, our goal is to help our residents continue to enjoy all of life's meaningful moments.  Comfort, security, and quality of life are the cornerstones of our Memory Care Program.
Providing compassionate, personalized care for those facing the challenges of Alzheimer's disease or related dementia that nurtures the spirit and enhance over all wellness is our daily goal. We work each day to ensure that all residents enjoy an active lifestyle with daily opportunities to socialize and engage in activities that they have always enjoyed.
Activity Planning
Activities may include, but are certainly not limited to:
Painting or crafting
Puzzles
Reading along
Trivia games
Skill games
Holiday activities
Musical Activities
There are many notable applications of music in memory-care programs, for example:
Increased activity and engagement
Promoting physical balance
Sparking happy memories
Boosting or modifying mood
Identifying music that residents link with happy memories and incorporating it into our individualized treatment plans.
In summary, our secured memory-support environment maintains a balanced calendar of cognitively stimulating programs and music-focused activities. To learn more, please call us today at 773-478-4222.
Let our experienced Paul House team help your family today.
Contact us today to learn more!