Palliative Care and Hospice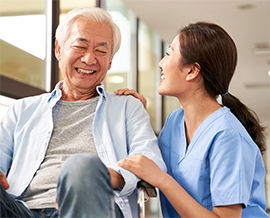 Care and Compassion is what you can expect from our Hospice and Palliative services. We understand the difficulties people encounter when dealing with advanced illnesses and seek to address the special needs of these residents. Our medical team and staff work with a variety of hospice experts who specialize in pain management and other effects of advanced illness. More importantly, our treatment plans are designed to provide dignified and compassionate end of life care, that is both designed to support both the needs of the resident and their family.
Let our experienced Paul House team help your family today.
Contact us today to learn more!