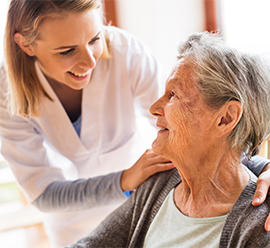 Our Company Mission
Everything we do at Home Instead Paul House is driven by our universal mission: To enhance the lives of aging adults and their families.
When our founders Paul and Lori Hogan began providing care for Paul's grandmother to help her remain at home, they envisioned a future where all people could age with greater hope and success. We strive to make that vision a reality with every life we are privileged to touch.
Changing the Face of Aging
We often find ourselves working side-by-side with home healthcare providers in order to deliver the best possible caregiving services to fit each client's needs. For example, the our agency may change your loved one's prescription or recommend a therapy regimen. Our Paul Houses are there with your family member day in and day out to make sure they take those medicines and stick to their recommended routine safely and effectively.
Let our experienced Paul House team help your family today.
Contact us today to learn more!